Nairobi railway station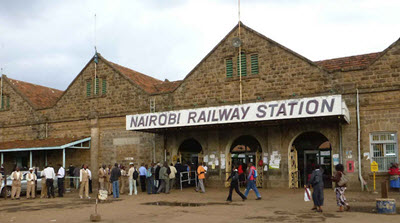 Nairobi railway station is a station on the old metre-gauge (narrow-gauge) railway line that used to provide services from Mombasa to the Ugandan border, via Nairobi. When this railway was built in 1896-1901, it was known as the Uganda Railway. The first Nairobi station building was created in 1899. It was pretty basic, and it would need to go through notable changes throughout the 20th century as the Nairobi stop received more and more traffic.
In 2017, a new standard-gauge railway (SGR) was inaugurated for travel between Mombasa and Nairobi. This railway uses another station for its Nairobi area stop; the Nairobi Terminus which was built specifically for this new line in Syokimau, roughly 20 km from Nairobi's central business district.
The old Nairobi railway station is still used by the metre-gauge railway line connecting Nairobi with the Ugandan border, but the plan is to build a new SGR for that stretch too – if Kenya and China can agree on the terms and conditions for that deal. If they do come to an agreement and go through with the plan, the metre-gauge railway will probably be scrapped.
Short facts about the Nairobi railway station
Type
Heavy rail / freight
Coordinates
1.291664°S 36.828619°E
Address
Station Road

00200 Nairobi

City
Nairobi
Opened
1899
The Museum
The Nairobi Railway Museum is adjacent to the Nairobi railway station.
The museum was established by the East African Railways and Harbours Corporation in 1971 to preserve and display the history of rail travel not just in Kenya but in the whole of East Africa.
Steam locomotives

Three operational steam locomotives are kept here, but you need to book an appointment in advance to see them because they are normally covered up. The museum's collection also contains early diesel locomotives and passenger coaches.
Rails run from the main railway and into the museum part, which makes it possible to take old restored steam locomotives out on excursions, e.g. to the metro Nairobi area or even all the way to Naivasha and Konza.
One of the old steam locomotives in this museum was used in the 1985 movie Out of Africa, the 7 Academy Award-winning drama film loosely based on Karen Blixen's autobiographical book of the same name.
The Hugh F Marriott
The museum holds a W.G. Bagnall locomotive called Hugh F Marriott, which was built in Stafford, England, in 1951. Once upon a time, this engine operated a switcher at the Magadi Soda Company in south-western Kenya.
Miniature railway
Since 2011, the museum has had a working miniature railway.
List of exhibited locomotives
Operational locomotives
Railway
Number
Name
Manufacturer
Class
Wheel

arrangement

Kenya-Uganda Railway
2409
Vulcan Foundry
EB3
4-8-0
East African Railways
3020
Nyaturu
North British
Tribal
2-8-4
East African Railways
5918
Mount Gelai
Beyer-Peacock
Mountain
4-8-2+2-8-4
Non-operational locomotives
Railway
Number
Name
Manufacturer
Class
Wheel

arrangement

Kenya-Uganda Railway
327
Vulcan Foundry
ED1
2-6-2T
87
Karamoja
Beyer-Peacock
EC3
4-8-4+4-8-4
2401
Vulcan Foundry
EB3
4-8-0
5505
Beyer-Peacock
GB
4-8-2+2-8-4
393
Nasmyth Wilson
EE
2-6-4T
Tanganyika Railway
301
Beyer Peacock
DL
4-8-0
East African Railways
2921
Masai of Kenya
North British
Tribal
2-8-2
3123
Bavuma
Vulcan Foundry
Tribal
2-8-4
5930
Mount Shengena
Beyer-Peacock
Mountain
4-8-2+2-8-4
6006
Sir Harold MacMichael
Société Franco-Belge
Governor
4-8-2+2-8-4
Magadi Soda Company
Hugh F Marriott
W.G. Bagnall
0-4-0ST