Nairobi owes its very existence, and status as the capital of Kenya, to the railway.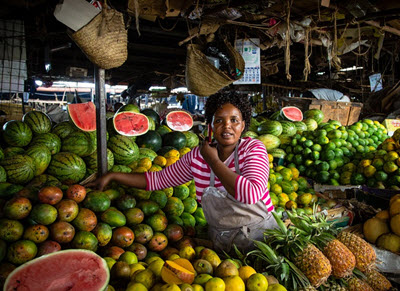 When the meter-gauge Uganda Railway was finished in 1901, Nairobi wasn't a city – it was just a spot where the train stopped along its way from interior Uganda to the coast of Kenya. Eventually, this spot grew into an important trading point and logistical hub for products grown in the surrounding region, such as coffee, tea, and sisal. Within a few years, it was declared the new capital of Kenya.
Today, the old meter-gauge railway has been replaced with a modern standard-gauge railway on the stretch going from Nairobi in the interior to the port city Mombasa in the east. If you instead want to go west, i.e., from Nairobi to the Ugandan border, you have to take the old meter-gauge railway, because no new railway has been built in this direction yet.
Nairobi's importance as a trade hub has also allowed it to become a financial centrum.   The city is home to numerous banks and other financial institutions.  Many of these institutions operate in a relatively unregulated space. Kenya has no regulation that regulates binary options, CFD certificates, or FOREX trade.  The trade is legal but completely unregulated, and many Kenyan brokers take advantage of this. Wealthy Kenyans know this and invest with regulated foreign brokers such as IQ Option, but many poorer citizens get scammed by local brokers who scam people out of their hard earned savings.  Scams of this type reduce social mobility in the country.
Taking the passenger train from Nairobi to the coast (Mombasa port city)
From Nairobi to the port city Mombasa, you can take the new standard-gauge railway (SGR) which was inaugurated in 2017.
These trains do not leave from the old railway station in Nairobi. Instead, you must go to the new Nairobi Terminus railway station located roughly 20 km from Nairobi's central business district. You'll find this new station in Syokimau, a residential area in Machakos County, just south of Nairobi proper and not far from the Jomo Kenyatta International Airport.
There are two daily departures from Nairobi to Mombasa. The express train goes directly to Mombasa and arrives after 4 hours and 45 minutes. The intercounty train makes seven intermediate stops at railway stations along the way before it reaches Mombasa, and the whole trip takes about six hours.
At the time of writing, the price of a Nairobi – Mombasa Second Class ticket is 700 KSH, while a First Class ticket costs 3,000 KSH which is roughly 23 GBP (£23). These prices are subject to change, so always check directly with the vendor before making any firm plans.
Taking the passenger train from Nairobi to the Ugandan border (Masala border town)
The old colonial-era meter-gauge railway between Nairobi and the Ugandan border is still in use, but it is in poor condition so expect the trip to take quite a while. It will take you from Nairobi to the Kenyan border town Masala, where it connects to the Ugandan railway.
The train leaves Nairobi from the old railway station on Station Road, 00200 Nairobi. Coordinates: 1.291664°S 36.828619°E.
Railway freight
For railway goods transport, there is freight service from the inland container depot located in Nairobi's Embakasi division to Mombasa. The end of the line in Mombasa is in Port Reitz, just west of Mombasa Island.
Getting to Nairobi by air
Jomo Kenyatta International Airport
The main airport for Nairobi is the Jomo Kenyatta International Airport (IATA: NBO, ICAO: HKJK), which is located in the suburb Embakasi, roughly 15 km south-east of Nairobi's central business district.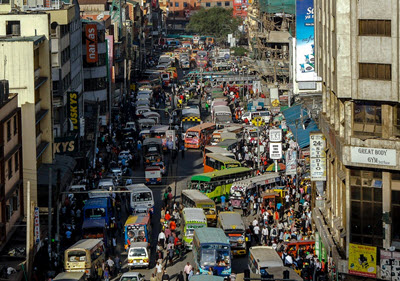 This is the largest airport by traffic not just in Kenya but in all of East and Central Africa. In 2016, it served over 7 million passengers and had scheduled flights to over 50 different countries. The airport is used for both international and national travel, with domestic traffic accounting for approximately 40% of total traffic in 2016.
Wilson Airport
Wilson Airport (IATA: WIL, ICAO: HKNW) is used by small aircraft; chiefly propeller-driven planes. A majority of the traffic is short-distance. Many tourist charter planes use Wilson Airport instead of Jomo Kenyatta, partly because the check-in times are much shorter.
Coordinates: 01°19′12″S 36°48′54″E
Visiting Nairobi
One of the most popular tourist destinations in Nairobi is the Nairobi National Park, where you can see animals such as lions, black rhinos and giraffes. Guided walks can be arranged, allowing you to experience the nature on foot instead of from the inside of a vehicle. Nairobi is one of few cities in the world with a national park within its boundaries.
Transport within the city of Nairobi
Just as in many other parts of Kenya, matatus are ubiquitous in Kenya. They are privately owned mini-buses that drive specific routes and cost very little to use.
Buses (other than matatus) have become increasingly common in Nairobi during recent years. The four major bus companies operating city routes are Kenya Bus Service (KBS), Double M, Compliant MOA, and Citi Hoppa.
A third option is ordinary taxi cabs, although this is, of course, more expensive than matatus and buses.