The eastern terminus of the Kenyan railway system i the port city Mombasa on the Indian Ocean. When the old meter-gauge railway was built back in 1896-1901, the main reason for creating it was to connect to land-locked Uganda with the sea. The railway was even named the Uganda Railway. This was when both Uganda and Kenya was under British Colonial rule.
After independence in 1963, the meter-gauge railway in Kenya decayed due to a lack of maintenance, especially toward the end of the century. In the mid-2010s, a partnership was created between China and Kenya, resulting in the construction of a new high-quality standard-gauge railway (SGR) from Mombasa to Nairobi. This railway has now replaced the meter-gauge railway on this stretch and dramatically reduced the travel time from an estimated 16-24 hours to a not just shorter but also more reliable 4 hours and 45 minutes. Plans have been created to extend the SGR all the way to the Ugandan border, but these plans have yet not come into fruition and no firm agreement has been struck between China and Kenya.
Taking the passenger train from Mombasa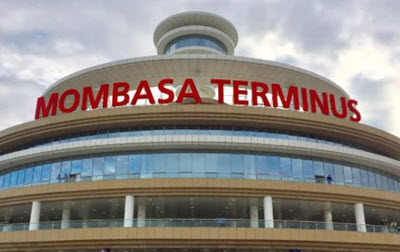 The new passenger trains from Mombasa leave from the Mombasa Terminus railway station, which is located in Syokimau, not far from the Jomo Kenyatta International Aiport. This is not in central Mombasa.
These are the trains that run on the new standard-gauge railway, inaugurated in 2017.
There are two daily departures from Mombasa to Nairobi. If you take the express train, the trip from Mombasa to Nairobi will take about 4 hours and 45 minutes. If you instead opt for the intercounty train, seven stops will be made along the way and the whole journey will take 6 hours. IMPORTANT: If your final destination isn't Nairobi, you need to take the intercounty train since the express train goes directly to Nairobi, without stopping at any of the other railway stations along the way.
At the time of writing, a First Class ticket from Mombasa to Nairobi costs 3,000 KSH which is roughly 23 GBP. For a Second Class ticket, the price is 700 KSH. Always check current prices before making any firm decisions about your travels, since they can change with short notice.
Railway freight
For railway goods transport, freight services are provided between Port Reitz (just west of Mombasa Island) and the inland container depot located in Nairobi's Embakasi division.
Can I travel by rail all the way from Mombasa to Uganda?
Yes, but modern trains running on standard-gauge railway are only available from Mombasa to Nairobi. In Nairobi, you must get yourself from the SGR railway station to the old railway station, and embark on the train that runs on the old colonial-era metre-gauge railawy to the Malaba.
Getting to Mombasa by air
Moi International Airport (IATA: MBA, ICAO: HKMO) is the second-largest airport in Kenya in terms of traffic. It is located in the township Port Reitz in Mombasa County and has both international and domestic flights. A majority of the international flights are either to other parts of the African continent or to Europe.
Examples of airlines and destinations
Airlines
Destinations
Condor
Frankfurt
Munich, but only during parts of the year
Ethiopian Airlines
Addis Ababa (Abeba)
Fly540
Nairobi (Jomo Kenyatta International Airport)
Zanzibar
Fly-SAX
Moroni
Jambojet
Nairobi (Jomo Kenyatta International Airport)
Kenya Airways
Nairobi (Jomo Kenyatta International Airport)
LOT Polish Airlines
Seasonal charter: Warsaw (Chopin Airport)
Mombasa Air Safari
Amboseli
Keekorok
Lamu
Malindi
Masai Mara
Ukunda/Diani Beach
Neos
Milan (Malpensa Aiport)
Verona, but only during parts of the year
Qatar Airways
Doha
RwandAir
Dubai

Kigali

TUI fly Belgium
Brussels, but only during parts of the year
TUI fly Netherlands
Amsterdam, but only during parts of the year
Turkish Airlines
Istanbul (Atatürk Airport)
Visiting Mombasa
Mombasa is a popular tourist destination in Kenya where you can enjoy a combo of relaxed beach life and bustling city experiences.
Within the city, matatus are an important mode of transportation. They are privately owned licensed mini-buses that are inexpensive, albeit also rather uncomfortable and cramped, to travel on.
The three-wheeled tuk-tuks (auto rickshaws) cost about the same as a matatus, but you can ride alone and directly to your desired destination. Always agree on a price in advance.
A third, but more expensive, option is the ordinary taxi cabs.